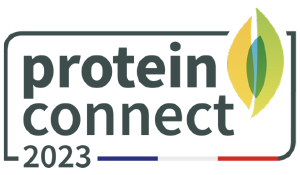 A label dedicated to
alternative proteins start-ups

 

The Label

The aim of the Protéines France label for start-up is:

• Connect the actors in the field of plant-based and alternative proteins from farm to fork

• Shed light on the most promising start-up/ideas

Key objectives:

• Encourage the development of start-ups and growth their business in France  and in Europe 

• Intensify collaboration between start-ups and industrials
PROTEIN CONNECT label is a guarantee of quality, notoriety, and credibility recognized for the start-ups by Protéines France community.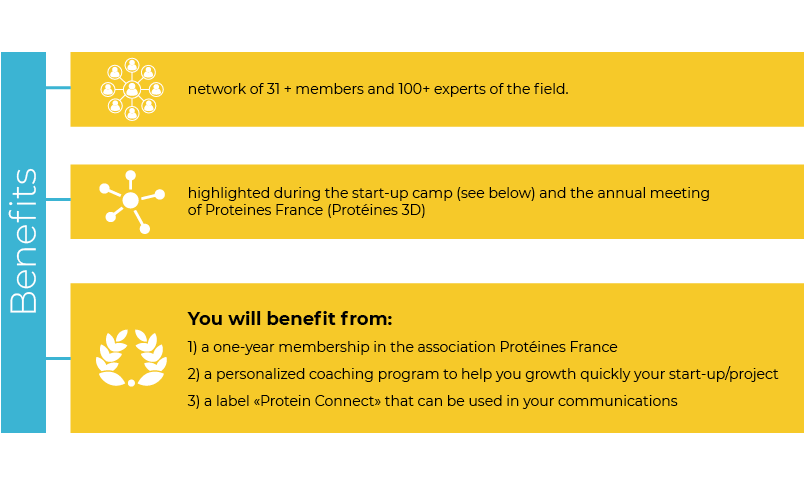 February 2023 : Laureates ceremony during Start-up camp
A major event with European ambitions bringing together start-ups, Protéines France members and investors!
Be immersed in a dynamic program between :
* Start-ups pitches,
* Sponsors' pitches,
* Inspirational presentations by speakers in the field of alternative proteins,
* Presentation of Protein Diag and Awareness Workshops from ProteiNEW project 
Objective: an event that catalyzes the emergence of innovation projects in plant proteins and new resources.
        Timeline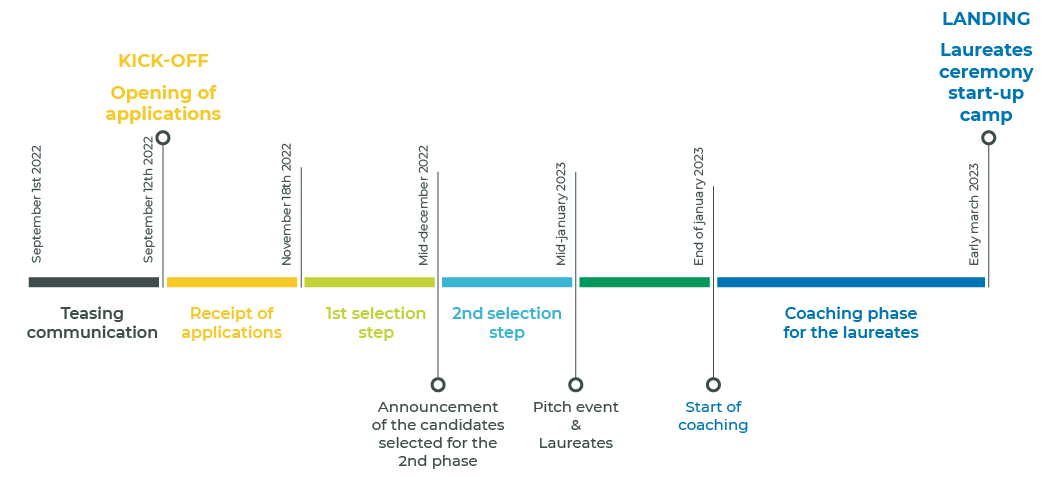 Previous edition
 

A start-up in the field of biocontrol, Agriodor creates revolutionary solutions based on kairomones that replace insecticides with environmentally friendly pest trapping methods.

Focus on pea, fababean and lentils crops.

 

 

 

Created in 2019, Nxtfood is pioneer company in the development of plant-based meat analogues. We produce and sell a range of products made in France under the brand ACCRO.
        Eligibility requirements
 

The Protéines France label is opened to worldwide start-ups. Competitors must have an ingredient, product, solution, service or process related to the plant-based and/or alternative proteins sector (algae, insect, yeast, bioconversion, single cell,…) that they wish to publicly present as the basis for a new viable business.

 

The start-up shall meet the following criteria:

• Officially registered

• Not older than 5 years

• The start-up solution must be at a minimum development stage of TRL 2 or 3

• The start-up may have raised funds: seed round, series A/B and/or independent funding

• The business must be involved in a new product, technology or service in the field of plant-based and alternative proteins

Only start-ups developing a new product or service or process are eligible under this scheme.

 

 

The start-up should contribute at least one of the four goals identified below:

Initiate a transition to diversified proteins seed cropping systems – new seeds, innovative crop systems,… that are genuinely innovative and offer measurable advantages for growers, ingredient manufacturers, food industry and consumers

Consolidate the contribution of the plant-based and alternative protein sector to Europe and France's self-sufficiency for feed sector – new ingredients, innovative products

Contribute to diversify the market-based of food ingredient or product – new ingredients or product or improved function and properties health benefit, taste and nutrition that are genuinely innovative and offer measurable advantages for growers, ingredient manufacturers, food industry and consumers

Development of sustainable process and technologies for a better food world – new product or ingredient made with a new process and technology, positive impact of proteins techno-functionalities, circular economy of residual wastes, primary resources management

             Partners

             With the support of